Walking the ADT and raising funds for Food Bank of Wyoming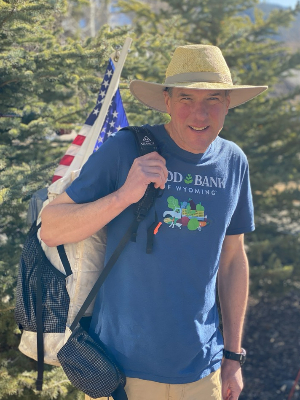 Hello! My name is J.J. King and I am fundraising for Food Bank of Wyoming at a nominal rate of one penny per mile while hiking along the American Discovery Trail (ADT). From Delaware's sandy beaches, to Nebraska's sand hills, I plan to continue walking across Wyoming for a total of 3,225 miles, as time and weather permit. I will need to average 21 miles per day … and pray … and eat lots of ice cream.

Would you donate 45 cents to Food Bank of Wyoming if someone hiked across Delaware? Might you increase your gift to $11.00 when I continue across Ohio? What about when I cross into Wyoming?
Would you consider donating 1¢ for each mile of my hike? Every dollar raised provides enough for four meals, which means your $32.00 will provide 128 meals to Wyoming neighbors facing hunger.
Every donation will be collected directly by Food Bank of Wyoming and I will not receive any portion of any donation.

Following my career in the United States Navy, I completed long distance hiking trails such as the entire Appalachian, Ice Age, New England, Tahoe Rim, and the Wonderland totaling 3,758 miles. I have hiked 1,140 miles of the Pacific Crest Trail, and two traverses of the Grand Canyon and a bicycle ride across America totaling 4,646 miles.
My American Discovery Trail hike will commence on May 1, 2022, and I have plans to complete my adventure in September 2022.
I want to extend my heartfelt appreciation and sincere gratitude for your support to Food Bank of Wyoming. It's dedicated staff and their untiring volunteers; and our fellow citizens of Wyoming. Thank you for your inspiring participation and taking action to end hunger in Wyoming.
See picture's from J.J.'s Journey by clicking this link: J.J. King's journey on the American Discovery Trail

Read about J.J., on the Food Bank of Wyoming blog, https://wyomingfoodbank.org/newsy/walking-feed-wyomingites-facing-hunger/
Update as of October 2022

JJ's has walked off 94,000 calories of ice cream and will be pausing his walk for the fall.
Update as of August 22, 2022
Welcome to Wyoming on August 1, 2022! My tent placed three inches from Nebraska at Pine Bluffs, Wyoming. Great to be back home!
The Town of Buford ... smallest town in the United States. The General Store and the owner's home defined the town.
Just beyond Buford on Interstate 80 is Tree Rock. A Limber Pine Tree of unknown age.
The Lincoln Highway gradually gave way to US 30 which is currently shared with Interstate 80. This statue of Lincoln is found at it highest elevation of 8,640 feet.
Based on this advertisement at Dodd's Shoe Store in Laramie, Wyoming, I have taken 5,848,800 steps for the 2,400 miles that I have walked between Lewes, Delaware and Montpelier, Idaho. I have purchased five pairs of boots as of August 22, 2022.
A typical campsite alongside Interstate 80 and the Union Pacific Railway.
Crossing the Continental Divide. (An update sent from West Virginia included a photo of the Eastern Continental Divide.)
Sunset as I approached Rock Springs, Wyoming. Sunrises were just as stunning to witness.
Shadows of a walker on a section of Interstate 80 being resurfaced.
No traffic. No contractors working on Sundays. Pure walking bliss. Well, as peaceful as road walking goes.
A vintage Sinclair Gas Station in the Town of Green River, Wyoming. Note the Dino on the roof.
Two miles west of Little America, Wyoming, US 30 splits from Interstate 80 into a two lane highway. Long and straight sections. Seems difficult to miss an exit. Several historic trails were precursors to US30, including the Oregon Trail ... my route to the Pacific Ocean.
Near Sage Junction (US 30 and Wyoming 89), I saw this sign noting just how close I was to my home. But I walked onward to Idaho and Oregon.
Sixteen miles from Cokeville, Wyoming, the last town before crossing into Idaho, this stray puppy befriended me. Without a collar and name tag, I called him Liberty. Having "Liberty" in the U.S. Navy is a short period of authorized time away from performing official duties. Seems both of us were enjoying freedom. Two miles into our joint hike, a Lincoln County Sheriff, also named J.J., kindly took custody of Liberty as he knew the local owners at a nearby ranch. I suggested that he share the puppy's name.
Beyond Cokeville, Wyoming, just seven miles remained. All on a gentle downhill grade. Passing more hay and alfalfa farms adjacent to the South Fork River.
I crossed into Idaho before noon on August 21, 2022. Wyoming was both a challenging and rewarding experience of three weeks of walking. Challenging to stay hydrated in the elevated desert between Laramie and Rawlins, and between Rawlins and Rock Springs. Rewarding for the ever beautiful grasslands and resilient sagebrush.
I am proud to call Wyoming home.
Update as of August 4, 2022
In Buford. 23 miles to Laramie. A really nice day for walking.
I am seeing an Amazon Prime truck on Wyoming I-80 about every ten minutes ... 6 per hour.

My shortest day of walking was the first day, leaving the Town of Lewes, Delaware, of 7.1 miles.
My longest day was 44.0 miles to reach West Des Moines, Iowa.
Daily average is about 23 miles.
Tomorrow will be my 100th day of this adventure. Laramie will be a good place to celebrate.
Have a great day!
Update as of August 3, 2022
Greetings friends and supporters of the Food Bank of Wyoming! It has been over ten days since last writing. Lots of hot days to close my time in Nebraska. I have gratefully arrived in Wyoming!
I guess making a call in this rural land of Nebraska was a challenge for years. Today can be defined by limited cell recharging options while walking. Years ago it was difficult to find a "pay phone." Nebraska's Panhandle along US Highway 30 is defined by long stretches of little traffic. So quiet, it rivals any library. Few towns. Fewer hotels and groceries. My home was often a patch of land between competing noise from Union Pacific trains and highway truckers. But was always easy to fall asleep after a long day of walking. A huge green grasshopper. A few snakes. Lots of redwing blackbirds. Otherwise, cows and cows and more cows. My last full day in Nebraska was greeted with a brilliant sunrise. Finally Wyoming! A brilliant sight to greet citizens arriving to Cheyenne, our State Capital. Long may it wave! With limited recharging options ahead, I do not plan to send updates for the balance of my walk. I will be walking along Interstate 80 to Idaho. Then across to Boise/Nampa to access US Highway 20 and Oregon Highway 126 to Florence, Oregon ... the terminus of my adventure.
I will have walked over 2,000 miles by the end of today ... August 3rd. This winter I plan to start writing a book to share experiences about this walk, and other trails that I have enjoyed across America.
I wish each of you well, send my best regards, and sincerely thank you for your most thoughtful and generous donations to the Food Bank of Wyoming. Enjoy the rest of your summer.
Cheers, J.J.
Update as of July 24, 2022
Greetings friends and supporters of the Food Bank of Wyoming! Today is National Cowboy Day, and Wyoming is the Cowboy State, also the Equality State. Here in North Platte, Nebraska, "Sinclair Dino" is dress for the occasion!
Since my last update, I have been challenged with phone service ... both places to recharge its battery, and airborne dust and dirt affecting its use. It was serviced yesterday, so a chance to write.
The temperatures and heat indexes have been oppressive since leaving Columbus, Nebraska. My daily mileage has been reduced as walking during the afternoon was not safe. But my goal of reaching Wyoming by the end of July is still realistic ... the border just 178 miles from North Platte, Nebraska.
Upon leaving Columbus, one sees a monument marking a portion of the Oregon Trail. It seems that the upper right corner behind the featured pioneer statue is a profile of an Indian. It reminded me of the "Old Man of the Mountain" of New Hampshire. (Featured on the State Quarter)
A very large cottonwood tree ... the Lone Tree ... once thrived near the Platte River, three miles from Central City, Nebraska. An account from 1833 noted it could be seen twenty miles away. Ten to twelve foot circumference, fifty feet tall, and its lowest branches twenty feet above ground. Unfortunately it had died by 1863, with a storm downing it in 1865. It must have been quite a stunning sight to witness. Although much smaller in size than the Lone Tree, the cottonwoods next to my campsite near Central City casted cooling shade.
On July 16th, I experienced my first tornado. The Town of Shelton was in its path. The United States Postal Service claims "we deliver for you" ... and in ways beyond mail delivery. As the skies turned darker, the winds more extreme, and the first hints of rain, I ducked into the Shelton Post Office for cover.
Apparently my decision was wise, as I was joined by a couple from Grand Island, Nebraska, natives who understood leave their car and seek shelter. We enjoyed great conservation; they even made an "on the spot"
Update as of July 11, 2022


Greetings friends and supporters of the Food Bank of Wyoming! I trust that you are enjoying summer. Maybe your plans include a picnic or a cookout. Nebraska's farmers will certainly play a part to supplement your menu. The bounty of the first plantings of corn will soon be harvested. And more bushels will follow as the summer days continue into August.
Since leaving Omaha, my walk has primarily followed the historic Lincoln Highway. The conception of a transcontinental, paved, toll-free highway dates from 1913. A route was planned from New York City to San Francisco.
Eleven miles west of Omaha, in the Town of Elkhorn, there exists a very well preserved three mile section of the Lincoln Highway. Brickwork used to overlay a concrete foundation can still be enjoyed by motorists, bikers and walkers. The present 35 mile per hour speed limit harkens drivers to another time when people embraced Benjamin Franklin's words of wisdom: "Haste makes waste." Slow down to enjoy this engineering marvel.
This particular section was originally dirt, but was surfaced with bricks in 1920. Indeed, motorists were likely driving much slower than 35 miles per hour. Nearby power-line poles are painted red, white and blue; with a blue "L".
Over time, the long portion of the Lincoln Highway in Nebraska, running near the Platte River, was rerouted to join today's US Highway 30. But there remain small sections of the original highway to enjoy. Some portions still showcase dirt surfaces.
The Town of North Bend, Nebraska preserves another example of how our society has changed over the years. This bank was constructed in the 1917, but without a window for drive through services, common for its time. I was grateful that the citizens of North Bend preserved this building after it was closed in 1933.
Wildflowers are beginning to brighten the sides of US Highway 30. One reward of walking instead of driving is for an opportunity to closely admire nature. Varieties of Indian Blanket and Coneflowers are showcased.
Not only are there flowers to admire, but grasshoppers. Dozens of them. Jumping all around me as I enjoyed lunch.

It seemed they did not mind the hot, sunny afternoon. And I did mind them as they allowed me to eat in peace. Pacing themselves across the concrete driveways. Large ones. Small ones. Entire "families" enjoying Nebraska.
After visiting the City of Schuyler for lunch, I decided to break away from US Highway 30 for a nine mile route on "Road D" to the Village of Richland. It was not the best decision; however, I did not know the surface was going to be very loose dirt. In places it was consistent with course sand at a beach.
However, it did provide a peaceful campsite on a small driveway to access an irrigation pumping station. But I concluded a return to the Lincoln Highway (US Highway 30) would be my intended route to reach the Town of Pine Bluffs, Wyoming.
The past three days since leaving Omaha, and arriving in Columbus, (Nebraska ... not Ohio!) has been a time to reflect on how highway travel has evolved in America since the early 20th Century. It will link many small towns, and a few larger cities, for the next 386 miles until I reach Pine Bluffs.
Thank you for sharing your time to read this update. You may want to consider learning more about our nation's history during your summer reading.
Update as of July 7, 2022
Greetings Friends and Supporters of the Food Bank of Wyoming! Thank you for sharing your time to read this update of our walk across western Iowa, and into Omaha, Nebraska.
July has arrived. Yes, there are fireworks to watch. But especially as a hiker, ice cream is a treat to enjoy (44,750 calories to date). Which President declared July as National Ice Cream Month? Answer at the bottom of this update.
Have you ever heard of egg omelets served over hash browns? I was introduced to this delicious presentation in Booneville, Iowa. So tasty that after the first initial bites, I had to take a photo to share with you.
The Towns of Stuart and Adair were sites of two crime scenes. On April 16, 1934, Bonnie and Clyde robbed a bank in Stuart, Iowa.
Near Adair, Iowa, the first train robbery in the west was committed by Jesse James and his band on July 21, 1873.
One of the most pleasant roads that I have walked since Delaware was the White Pole Road. It follows a portion of Historic US Route 6. The electrical poles on the roadside are painted white. This simple feature provided a good contrast to the sprawling cornfields as one looked to the horizon. By the way, Iowa is covered by 85 percent in corn and bean farms.
Years ago, rural roads included messages and advertisements in a series of signs. These signs promoted cautionary words of safety near a railway line as I approached Menlo, Iowa.
In Casey, Iowa, I celebrated July 1st, the start of National Ice Cream Month at the Casey Creamery. "Three scoops of Kemps Vanilla, please."
Who needs a gym? Save your membership fees and go for a walk, and enjoy ice cream without a second thought.
Each day is a mystery on a long walk. Changes in the weather. Meeting friendly people. The occasional bad dog. And then there are road closures. Bridge construction to rebuild a bridge on US 6 caused a nine mile detour. Even the gorilla advertising fireworks for sale was upset.
The reroute recommendation that was suggested by a local citizen were not exactly correct. I was soon walking on an airport runway!
Fortunately there was no small plane activity that afternoon. But scaling four strands of barbed wire fencing around the runways was the true hazard. Gratefully I made the pass without harm.
Good material for my future book, but at the time, it was not the most welcomed experience.
An early evening walk included this scene of a barn to close my day.
The driveway leading to the barn was well framed by trees.
In the Town of Anita, Iowa, access to health care and funeral services are a mutual business. Both provided in the same building!
If your medical procedure did not go to plan, your family or friends can arrange a funeral with little trouble.
The Town of Avoca, Iowa featured many impressive homes. It celebrated its 150 anniversary in 2019.
I thought the stairs leading to a wrap-around porch was particularly unique. They were constructed on a corner, rather than the more typical placement in front.
This collection of flags were placed across the road from a farmhouse. A reliable headwind ensured that drivers, and a single walker, could read the messages of freedom the day before the 4th of July.
On July 4th, I was entering the Town of Underwood, Iowa when the local high school band was preparing to play our National Anthem. Upon hearing the last note, a brisk pace across an intersection avoided a delay in my trek. "Pardon me, but I am trying to walk to Wyoming. Have a great day celebrating our country."
Rolling hills and impressive oak trees. These pleasant scenes before my eyes, with each step as my approach to the Missouri River drew ever closer, will be fondly remembered.
Finally, the Missouri River, also known as the Big Muddy. Flowing 2,341 miles from Three Forks, Montana to Saint Louis, Missouri ... this is America's longest river. The Bob Kerrey Bridge is a pedestrian and biker route between Iowa and Nebraska.
Another state traversed. Another state awaits.
This suspended bridge was designed with an interesting curvature.
Nebraska! The Cornhusker State. I am looking forward to hiking across its broad plains, knowing that the Food Bank of Wyoming is located just one state beyond the horizon each day of mystery dawns. Called into motion by the state bird, the beautiful Western Meadowlark.
I wish you well until the next time I send another post. And remember to enjoy some ice cream this month.
Answer: President Ronald Reagan.
Update as of June 29, 2022
Greetings Friends and Supporters of the Food Bank of Wyoming! Thank you for sharing your time to read this update of our walk across America.
Yes, "our walk" because I appreciate your kind support and thoughtful prayers for making this grand adventure possible. Iowa has proved to be a rewarding time since crossing the Mississippi River on June 19, 2022. This update comes to you from Des Moines, the capital city.
I was surprised by how the topography of central Iowa is remarkably defined by rolling hills. Receding glaciers 15,000 years ago scraped the land with tremendous pressure, and pulverized rocks into some of the richest soil in the world. Absolutely the best quality of dark, porous soil for growing crops, primarily corn.
Walcott, Iowa claims its truck stop and rest area the largest in the world based on availability of parking spaces. Located on Interstate 80. It has been in service since 1964.
More interesting barns as I walked onward. This one featured unique patterns of painted artwork called "barn quilts" for sale.
Durant, Iowa featured another historical, well preserved gas station. The Coca-Cola machine was a focal point near the service bays where cars were serviced.
Jeff's Market was a welcomed sight on a very hot day with a heat index of 102F. Two choices for lunch. Option one was pig ears.
Option two was a wedge of water melon and ice cream.
I opted for the fruit and ice cream, presuming the pig ears were for dogs. (By the way, my count to date of ice cream is 35,770 calories.)
Another impressive barn upon leaving Durant, circa 1883, and a quaint church.
Who was the first President of the United States born west of the Mississippi River? (Answer at the bottom of this update.) He was our country's 31st President, and was born in this simple two room cabin in West Branch, Iowa.
Raised by Quaker principles of honesty and hard work, he graduated from Stanford University's inaugural class in 1895 in California. Unfortunately the Great Depression highlighted his administration, and he served a single term. But his leadership saved millions of people from starvation in Europe following World War I.
The 211 citizens of Parnell, Iowa claim its town as the "Biggest Little Irish Town in Iowa."
The Mayor introduced himself while I enjoyed a lunch. He shared Parnell is the only remaining town in Iowa without a water tower. Its subterranean water tank must be replaced, but a rather daunting project with a town treasury of $200,000, and the cost of a new water tower of $500,000. Nevertheless, the kind mayor has made a thoughtful donation to the Food Bank of Wyoming. Yet another example of the generosity by our fellow citizens across the Midwest.
Windmill farms can be seen across central Iowa. They are scattered among the thousands of acres of corn fields.
Near Lynnville, Iowa, I encountered a road project involving a new bridge under construction. To cross the creek, I spent some time building a dam of rocks ... concrete from the demolished bridge. Who needs a gym? Tossing concrete rubble serves as an excellent workout.
Tired of spending $5.00 a gallon for gas? Sully, Iowa sells it for only 49 cents per gallon!
But you would have to travel back in time to the 1950's at this historic Deep Rock gas station.
Sully also featured the Freedom Rock for Jasper County, Iowa. Each county has a uniquely painted rock. This one in Sully features an 18 ton monument honoring Sergeant William Jasper.
On June 28, 1776, he inspired his fellow troops by recovering the Moultrie Flag when it fell under cannon fire from British ships at the Battle of Fort Moultrie. For his bravery, he was offered an officer's commission, but he declined the honor feeling it was not appropriate for lacking the ability to read or write.
Upon leaving Sully, Iowa, a violent but brief series of thunderstorms prompted me to seek shelter under the porch of an abandoned farmhouse. The setting sun casted a beautiful scene on the retreating clouds as my walk continued to the small town of Reasnor, Iowa.
Finally, Des Moines! Exactly 60 days since starting walking from Delaware. "Delaware to Des Moines" in two months. This cow and her calf welcomed me to the capital city.
"Holy cow! How utterly true! The wayward walker has traversed 1,323 miles."
Walking by the capital building, its domes were being renovated with a fresh coating of gold leaf.
I have enjoyed a two day break in West Des Moines, preparing to resume my walk tomorrow morning, June 29, 2022 toward Omaha, Nebraska. This video screen at a supermarket reaffirmed the mission of this walk: that accessing food by many citizens in America is a challenge.
I sincerely appreciate your support of the Food Bank of Wyoming. One in eight of our fellow neighbors, and one in six children, face hunger. Thank you for helping the staff and volunteers at the Food Bank of Wyoming provide proper and nutritious meals.
I look forward to updating you on our walk upon reaching the Cornhusker State ... Nebraska! Until then, have a great time preparing for the 4th of July!
Answer: President Herbert Hoover

Update as of June 16, 2022
Greetings friends and supporters of the Food Bank of Wyoming!

This update comes to you from Ottawa. No, I am not in Canada, but visiting Ottawa, Illinois. My last update was sent from Winamac, Indiana. This journey has covered 1,005 miles since leaving Delaware on April 28, 2022.
My final day in Indiana ended within feet of its border with Illinois. Indiana is to the right side of my pack; Illinois is to its left side. I simply slept under the stars without my tent, also known as "Cowboy Camping".
Indiana was an overall good experience. My transit took eight days from Richmond to this rural field four miles west of Lake Village. Only one mean dog encounter ... a German Shepard named "Bear". I met many friendly and helpful people who were genuinely interested in the Food Bank of Wyoming.
I passed through the City of Kankakee, and then hiked 10.5 miles in Kankakee River State Park. A campground provided a stay for my first evening in Illinois.
Continuing onward, another rail-trail greeted me, the Wauponsee Glacial Trail (WGT). Over 15,000 years ago, glacial activity in the Midwest scoured the land, creating lakes, rivers, swamps, moraines (ridges of soil and rock), and rich earth for today's farmers to grow crops. The WGT runs nearly 23 miles from Joliet, Illinois south to the Kankakee River.
My trek included less than two miles on the WGT to reach a substantial iron bridge. Built In 1903, it spanned the Kankakee River. It was in remarkable condition with little rust, being well maintained.
Some of the barns in Illinois are capped at the centerline with a smaller structure. I have not witnessed this design until reaching the Land of Lincoln. (Not on this hike; not during my hike across Wisconsin in 2017.) Maybe I will be fortunate to meet a farmer to learn more about the functionality of these projected roofs.
Onward to the Towns of Diamond and Coal City; and the larger City of Morris. Morris was the starting point of the Illinois and Michigan Canal State Trail. The original canal system was completed in 1848, the same year Chicago was first serviced with railroads and the telegraph. Similar to the Chesapeake and Ohio (C&O) towpath I experienced earlier in May, this canal system provided a means for farmers to transport their harvested bounty to Chicago and points beyond.
Morris was also the location of the world's first electronic telephone central office in November 1960. Sixty-two years later, and reliable (most of the time) world-wide voice and visual communication is supported by orbiting satellites.
Upon reaching Ottawa, I decided to take a day of lodging to rest from heat index temperatures above 100F. It has been exceptionally hot this week. Keeping hydrated is challenging. Ample water must be carried between towns, but that extra weight in the pack presents a greater effort to carry.
I look forward to departing tomorrow June 16, 2022) as I am only 100 miles to the mighty Mississippi River. A bridge awaits to cross into Iowa! Davenport, Iowa ... maybe by this weekend.
Until then, I trust that you are doing well, and that your summer is off to a great start. Sending with best regards.
Update as of June 9, 2022

Hello fans and supporters of the Food Bank of Wyoming! I trust that all is well with you, your families, and friends. This update comes to you from Winamac, Indiana, located about 65 miles east of Illinois.

The walking adventure draws ever closer to Wyoming, having completed 856 miles as of June 8, 2022. Up to 18,600 calories of ice cream. Gratefully there have been no mean dogs in the Hoosier State.
I departed Richmond, Indiana on June 3, 2022 to enjoy the Cardinal Greenway (CG) Rail-Trail. It was voted the nation's best pathway in 2018, the 25th anniversary of the goal to form an east to west crossing of America via former railroad lines. Its 62 miles are very well maintained.
The CG includes shelters, water fountains, interpretative signs, picnic tables, benches, and "bicycle maintenance stations".
I enjoyed one evening at a shelter, that included a local "resident".
The CG ends to the equally impressive Sweetser Switch Trail. Although only four miles long, it includes two covered bridges.
Upon leaving the Town of Converse, I noticed something moving in the center of a county highway as my day was drawing to a close. Two small raccoons! Bound to be hit by traffic. Using my hiking poles, I carefully returned them to the grassy shoulder.
Time seemed to return to the 1930s upon arriving at the small village of Wawpecong, Indiana. A very well preserved gas station presented an atmosphere where the pace of life was not as rushed as today. Only full service with uniformed attendants; self service was not an option. Cash only. No credit cards. Probably 5 cents for a cold bottle of Coca-Cola.
Beyond the Shell Gas Station, a large barn, circa 1914, loomed on the horizon. Imagine the thousands of bales of hay stored inside during the past 108 years.
This barn was apparently owned by a proud graduate or fan of Purdue University, located in West Lafayette, Indiana. Home to the Boilermakers.
The small Town of Bennett's Switch provided access to the Nickel Plate Trail, yet another rail-trail, this one totaling 44 miles. It passes through some rather intriguing names of small towns including Miami, Bunker Hill, and Denver. Along the way is a larger city named Peru. To my surprise, the memorial statue honoring local citizens who served during World War I was an exact duplicate to the same statue in front of the county courthouse in Phillipi, West Virginia. How many more small towns and cities have the same statue?
Peru's Public Library caused me to pause for a moment as I walked past its front entrance. Do you see anything peculiar with the stained glass window above the doorway?
I am looking forward to continuing my trek along Indiana's meandering county roads. As quiet as a library here. Alongside the farmland, where the corn is currently only ankle high. A local farmer said it will be a good harvest if it grows to one's waist by the 4th of July. As you enjoy an ear of sweet corn later this summer, be sure to thank the farmers of Mid-western America.
Thank you for sharing your time. I truly appreciate your support of the Food Bank of Wyoming. Sending best regards from Indiana!
Update as of June 3, 2022
Greetings friends and supporters of the Food Bank of Wyoming!
My last update was dated May 11, 2022, when I crossed the Virginia - West Virginia border. This update is written from Richmond, Indiana, the first city off Interstate 70 where it crosses from Ohio.
My walk has covered 725.3 miles. I have enjoyed 13,960 calories of ice cream. Grateful for multiple offers of cold water. Equally grateful that I have experienced only four mean dogs. (The "Dog Horn" is an effective deterrent.)
I have rerouted portions of my walk along the American Discovery Trail due to poor weather, flooded rivers, and to see some historical sights that would otherwise be missed. Sometimes detours reveal pleasant surprises.
An example was a stay in Moorefield, West Virginia. The historic Mullin Motel, circa 1847, is the oldest continuously operated lodging in the state.
I suspect many citizens of Wyoming are familiar with the Rocky Mountains defining the Western Continental Divide. But are they familiar with another great divide, although much lower in overall elevation? The Eastern Continental Divide runs along the chain of the Appalachian Mountains.
Rain and snowmelt on the east side of this road sign on the divide flows into tributaries leading into the Atlantic Ocean. Water falling on land to the west side of the sign flows to rivers ultimate reaching the Gulf of Mexico.
The small towns along my walking route included impressive architecture, including county courthouses. This one is located in West Union, West Virginia.
West Virginia also hosted my first encounter of a "rail trail" ... former railway lines repurposed as biking and walking paths. These pathways were a much welcomed alternative to walking on the sides of highways and county roads.
The North Bend Rail Trail extended 71 miles from Wolf Summit to Parkersburg. There were several tunnels to navigate, including one extending 0.43 miles. The entrance was pitch dark in the middle of the day.
Due to an interior curve, I did not see the proverbial "light at the end of the tunnel" until about half-way through. My headlamp provided reassurance of not walking into the tunnel's walls.
Another example of unique architecture was the bank in the Town of Cairo. Opened in 1896 and closing as a bank in 1974, its Italianate design was unique for the local area.
Parkersburg marked my farewell from West Virginia as a bridge crossed into Belpre, Ohio. I looked forward to more level land as my walk continued into the Midwest.
Churches in the many villages and small towns seemed to hold a prominent location. My early evening arrival into Logan, Ohio was particularly rewarding as one church featured an illuminated cupola.
Groveport, Ohio provide another example of a 19th Century church. The craftsmanship that was devoted to construct such buildings must have required many professional trades.
Upon reaching the capital city of Columbus, I looked forward to a day of rest. Constructed between 1838 and 1861, the capital building is noteworthy as it was designed without a dome, commonly seen in most other states. (Delaware, Hawaii, Nebraska and Virginia are examples of states also lacking domed capital buildings.)
Leaving Columbus, I marveled at the condition and preservation of the cast-iron, eagle crest and shield once adorning the bow of the battleship USS OHIO. This ship was among the Great White Fleet that circumnavigated the world during President Theodore Roosevelt's administration.
My traverse continued on the Ohio to Erie Trail ... a bike and walk path that extends from Cincinnati, to Columbus, to Cleveland. Ohio hosts hundreds of miles of truly off-road pathways. It wandered on to Cedarville, Ohio. A man who immigrated to America from Romania was very kind. He visited my campsite with homemade whole wheat bread, yogurt and an omelet. (I know the reader is familiar with omelets, but I have to share a photo of his delicious gift.)
A portion of the North Tower of the World Trade Center was featured in a small memorial park. The Town of Beavercreek was granted this solemn gift from in 2011, following the terrorist attack on September 11, 2001. It stands 25 feet high, eight feet wide, and weighs three tons.
Last winter, I read David McCullogh's book on the Wright Brothers. It was particularly moving to stand at 7 Hawthorn Street in Dayton, where the Wrights once resided. (The home was relocated in 1936 to Dearborn, Michigan by Henry Ford.) Fortunately Wilbur and Orville's bicycle shop remains in place as part of Aviation Heritage National Historical Park.
I departed Dayton the day after Memorial Day. There are many National Cemeteries across America, including Arlington National Cemetery. All of the gravesites at the Dayton National Cemetery were honored by small flags of the United States. The cemetery includes 33 servicemen who served in the War of 1812.
On June 1, 2022, I said goodbye to Ohio, and hello to Indiana. I look forward to starting my walk across the Hoosier State on another bike and walk path, the 62 mile Cardinal Greenway.
I will try to give another update upon reaching the Indiana - Illinois border. Until then, thank you very much for your thoughtful support of the Food Bank of Wyoming. My walk is just one way to help end hunger in our beloved State of Wyoming.

Updates as of May 27, 2022
The photo shows a church in Logan, Ohio. I arrived in Columbus today; departing on Saturday for Dayton.


Update as of May 24, 2022​


I should reach the Ohio-Indiana border next Monday to approach Richmond, Indiana. Planning to complete Indiana, Illinois and cross into Iowa during June.
About 1,840 miles from Athens, Ohio to my house.
Update as of May 11, 2022

Hello Friends and Supporters of the Wyoming Food Bank:
Since last writing, my walk has included a detour due to a flooded Potomac River after receiving heavy rains last week. I stayed in Bethesda, Maryland for two days to avoid the storms, and it was a wise call as the riverbanks exceed flood stage. Departed for the C&O Towpath on May 7th. The C&O Towpath defines the Potomac Heritage National Scenic Trail, 185 miles from Georgetown, Washington, D.C. to Cumberland, Maryland.
Canal boats were pulled (towed) by mules. A series of locks allowed the boats to safely descend the grade and contours of the land along the Potomac River.
Some locks along the canal included small cabins where lock keepers lived with their families to operate the locks.
The Great Falls of the Potomac River were overflowing its banks. Usually one can see large rocky crags from this viewpoint. A raging torrent of water. (Virginia can be seen on the opposite side of the Potomac River.)
I continued to historic Whites Ferry, but as the Potomac River crested in places over the C&O Towpath, I knew that it would be unsafe to hike to the ADT's crossing at Oldtown, Maryland. So I decided to cross at Harpers Ferry with its substantial bridge.
Along the way toward Harpers Ferry, there were many barns in the idyllic western Maryland countryside. To pass time, I conceived this poem on a bright sunny afternoon:
Hello old barn,
If you could speak,
How many miles beneath my feet? Must I traverse
In this Land of Mary? To cross the Potomac,
At Harpers Ferry.
While having a roadside lunch near Dickerson, Maryland, a man in a pickup truck asked if I was at the beach in Delaware two weeks ago. He recognized my backpack and flag. "Yes sir, that was me." He exclaimed that he saw me. I provide a card with information about the Food Bank of Wyoming.
Just before reaching the bridge to Harpers Ferry, the Appalachian Trail joins the C&O Towpath. It was great to be walking a few miles of the AT ... my first time since walking the entire 2,185 miles in 2013 from Maine to Georgia. White blaze markers identify this incredible trail.
Arriving at historic Harpers Ferry, one sees "John Brown's Fort". Tomorrow the detoured route will access a return to West Virginia, where I will reconnect with the ADT in Streby, West Virginia. Sometimes detours in life bring otherwise missed opportunities as shared above.
My walk since starting in Delaware on April 28th has included 234 miles. Miles of overall good weather, friendly and helpful people, and only two bad dogs.
Thank you for sharing your time, and supporting the Food Bank of Wyoming.
Cheers,
J.J.
Update as of May 4, 2022

Thank you for sharing your time by visiting this webpage. My walk along the American Discovery Trail (ADT) has proceeded well since starting on April 28, 2022. It was great to experience the Atlantic Ocean for the first time 2010. A small sample of seawater was collected and added to my backpack. Someday I hope to deposit it into the Pacific Ocean. The ADT's eastern terminal is located at Cape Henlopen State Park, near the town of Lewes, Delaware. During World War II, the United States Army monitored potential German submarine operations off the coast in this area. The Delaware River provided direct access to building and maintenance shipyards at Philadelphia. These strategic assets needed to be protected from the enemy.
The 45 mile walk across Delaware included farmland, marshes, small streams, friendly people ... and an impressive elevation gain of 49 feet above sea level. At a grocery store in the Town of Milton, a clerk noted that Wyoming was not too far away from the store. "No sir, I am not walking to Wyoming, Delaware. My goal is the State of Wyoming."
In Bridgeville, a friendly staff at T.S. Smith Orchard Point Market, circa 1907, provided a complimentary egg sandwich. It was most appreciated to start my day with a cooked meal, instead of dipping into a bag of granola. I purchased some fresh apples grown just behind the barn, next to the hen house which provide the main ingredient of my meal. The entire experience reminded me that the focus of my walk was to raise funds to help feed our fellow citizens residing in Wyoming.
Having completed over two days of walking, I approached the Delaware-Maryland border. A "welcoming sign" was not posted. So I created one to define my first state traverse. Thank you Food Bank of Wyoming staff and volunteers for the impressive shirt!
The Town of Denton, Maryland featured a tribute to a visit on September 5, 1938 by President Franklin D. Roosevelt. Apparently the entire population of the town was present to listen, as reported by an article in Life Magazine.
On the west end of Kent Island, Maryland, bikers and hikers must arrange for a shuttle ride across the 4.3 mile long Chesapeake Bay Bridge. This transit will be the only time that I will not actually be walking toward Wyoming. The bridge is dangerous and unlawful for pedestrian use with three lanes of traffic on each span. The roadway climbs to 186 feet above the water.
Located in Annapolis, Maryland, the United States Naval Academy was commissioned into service in 1845. The ADT passes the west side of several athletic fields. I was passed by young Midshipmen (students) on their afternoon training runs. Well, I was carrying a backpack. They were not even carrying a water bottle! Unfortunately, Maryland's Capital building was enclosed in scaffolding for maintenance, preventing a clearer view.
The ADT includes a visit to Greenbelt, Maryland. This small town is known as the nation's first planned community with an emphasis on pedestrian travel, rather than by vehicle. It was chartered in 1935.
My first week of hiking 138 miles ended on May 4, 2022. It included a traverse of the National Zoo in northwest Washington D.C. to make my way to Bethesda, Maryland. The Zoo is celebrating the 50th anniversary of the panda bear exchange with China, made possible by President Richard M. Nixon in 1972.
Two days of rest in Bethesda, Maryland has allowed safe lodging from a weather pattern of heavy rain, localized flooding, and thunderstorms. I look forward to resuming my walk on May 7, 2022. Onward to the Chesapeake and Ohio (C&O) Towpath alongside the Potomac River. Administered by the National Park Service, its southern terminus is located in Georgetown, Washington, D.C. The ADT shares 168 miles of the C&O Towpath to access Oldtown, Maryland. Oldtown will be my crossing point to access West Virginia! I hope to make my next update from the "panhandle" of The Mountain State. Until next time, thank you for supporting the Food Bank of Wyoming.
View More
Fundraising Honor Roll
Mary 'Mary L. E. Garland' Garland
$1,060
Thompson Palmer & Associates
$1,060
Mrs. Dorothy M. Moore
$106
Mr. John (Jack) Eagles Alcott III
$84
Dr. WILLIAM J KLEINDL
$63
Kathy and Phil Petersen
$37
tarver/sally 'Sally' bailey
$37
Mr. Daniel & Mary Greenblatt
$37
Jill and Michael Stillwagon
$33